Der Diebstahl des Iranischen Öles, und in Venezuela hat die vollkommen korrupte und kriminelle John  Bolton Truppe auch mit Hilfe der EU und Heiko Maas, ganz offiziell den Raub der grössten Erdöl Reserven der Welt, der 3 Venezulanischen Raffinerien geplant, was schon organisiert wird, schlimmer wie Hitler je war. Das Gold von Venezuela, verweigern Zeitgleich die Britten zurück zugeben.
Langzeit korrupte Kriminelle, welche man einkaufte, wie John McCain, Wesley Clark: Der Terroristen Motor in Albanien, direkt von Hillary Clinton, mit John Bolton, Rudy Giuliani, Tom Ridge,  schon damas auch mit John Kerry organisiert. Fest in Tirana
Link to the source (Translated by Nejat Society)
Link to the original report (NZZ.CH)
am 10. August 2018 besuchte die sehr bekannte Nah-Ost Expertin Lindsey Hilsum, mit einem TV Team das Lager, wollte Fakten wissen, wer im Camp diese Drohungen in die Welt gesetzt hatte. Langzeit Auftragskiller des CIA, der bis heute die Anschläge im Iran finanziert, die eigenen Leute in Albanien ermordet, die aussteigen wollen. Eine Sekte, welche zu den Kongreßen, den Teilnehmern Alles bezahlen. Die MEK Terroristen des korrupten John Bolton und von Hillary Clinton mit deutlichen Spuren des Drogen Handels, Geldwäsche nach Deutschland zur Ministerin Klöckner. Blutspur der Korruption, käuflicher Politiker, mit Kriminellen, CDU Gestalten ebenso, nicht nur Claudia Klöckner, Karin Strenz, Ursula von der Leyen bis Angela Merkel. Immer dabei das UNHCR natürlich kriminelle UN Organsationen, welche oft direkt von den Saudis kontrolliert und finanziert werden. MANZE:  Identischer Ort, wo auch der Kokain Import, die Verteil Stelle für Europa ist, ebenso für Gewürze und Heilpflanzen Export in die USA. Direkt von der Deutschen Berufs Betrugs Mafia rund um die KfW finanziert, mit ProCredit und EU Agrar Fund Geldern, Infrastruktur Projekten mit Kriminellen.
Der Ort Manze, als Terroristen, Drogen Verteil Stelle mit eigenen Hacker Team, gegen den Iran.
Eingekaufte Journalisten, auch noch TAZ Schreiber: Gerrit Wustmann mit Traumwunsch Artikeln, das es Unruhen im Iran gibt.
MEK Terroristen bestechen Alle, vor allem US Politiker, was Nichs Neues ist, die ehemaligen Saddam Hussein Todes Schwadrone bis heute vom CIA finanziert, für aktuelle Aktionen und Anschläge gegen den Iran.
What better location to establish a clandestine terrorist training camp than in Albania?
Die US finanzierten kurdischen MEK Terroristen und die EU klatscht Beifall
Gehört auch dazu, gut geschmiert, für die Profi Terroristen: Michael Gahler, CDU! Für Schmiergeld, war wohl Michael Gahler der Motor, das die MEK Terroristen Vertretung in Maiz empfangen wurde.
Typischer Vertreter der einmal im Auswärtigen Amte eine Ausbildung zum vollkommen korrupten Verbrecher erhielt, der nur Betrug und Mörder fördert: Da gibt es Tausend Andere wie Clement von Goetze, Martin Kobler, Tom König nur korrupt muss man sein, dann ist man gut versorgt, wie Elmar Brok und Co..
Link to the source (Translated by Nejat Society)
Immer dabei, korrupte Deutsche und für Geld geht sowieso Alles, wie bei den Amerikanern.
Der CDU-Abgeordnete Martin Patzelt, der im Oktober mit einer Delegation unter Leitung der früheren Bundestagspräsidentin Rita Süssmuth das Lager besuchte, findet es nur legitim, dass die MEK ihre Ideen über das Internet zu verbreiten versuchen. Link to the original report (NZZ.CH)
2017/05/08 MEK's Maryam Rajavi blackmails Albania to become the new 'Saddam regime' for them.
Hillary Clinton: gut geschmiert von den MEK Terroristen
grooming Mojahedin Khalq (MEK, Rajavi cult) in Tirana part of bigger agenda for Albania
A list of some MEK agents trained by Saddam's Republican Guard now operating in Tirana (In Persian)
grooming Mojahedin Khalq (MEK, Rajavi cult) in Tirana part of bigger agenda for Albania
2017/01/01 Albania: John Kerry brought terrorists (Mojahedin Khalq, MEK, Rajavi cult), John Brennan warns of their risk
Gazeta Impakt, Albania, Translated by Iran I
Es gibt Berichte, die auf unbestreitbar engere Verbindungen der MEK zu Rudy Giuliani verweisen, der bei einem diesjährigen Treffen des Nationalen Widerstandsrates des Iran (engl. National Council of Resistance of Iran – NCRI), der vom MEK geprägt ist, Anfang des Jahres in Paris vom Regime Change in Teheran sprach.
EU kann US-Sanktionen gegen Iran nicht neutralisieren
https://www.antiwar.com/blog/2018/03/24/john-bolton-cheerleader-for-the-mek/
John Bolton, Cheerleader for the MEK
Originally appeared on The American Conservative February 28, 2018.
Robin Wright reviews Bolton's awful record, including his enthusiasm for the Mujahideen-e Khalq (MEK):
Von staatlichen Veröffentlichungen in Iran wird dagegen argumentiert, dass die Kritik aus der Washingtoner Führung eine Kopie der MEK ist. Da sei sehr vieles identisch.
Die US finanzierten kurdischen MEK Terroristen und die EU klatscht Beifall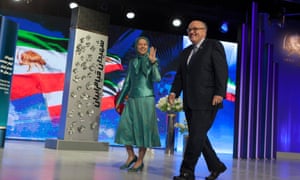 In Tirana: Rudy Gioliani und zuvor John McCain vor allem.
Gut geschmiert, natürlich auch Tom Ridge, der ebenso mit dem Gangster Damir Fazllic vor Jahren in Tirana auftauchte.
Neben Ignoranz gibt es womöglich noch einen anderen Grund für die Unterstützung der MEK: Zwar bestreitet die Gruppe Geldzahlungen, doch laut Berichten von «The Washington Post», «The Intercept» und anderen Medien haben Politiker wie Giuliani für Auftritte bis zu 50 000 Dollar erhalten. «Die MEK versuchen so ziemlich jeden zu kaufen», sagte der frühere Anti-Terror-Koordinator der USA, Daniel Benjamin, der «New York Times». «Es ist schon etwas, wenn dir jemand am Telefon 15 000 bis 20 000 Dollar für die Teilnahme an einer Podiumsdiskussion anbietet. Das passiert früheren Diplomaten nicht jeden Tag.»
The MEK's list of advocates, most who have admitted being paid, includes Congressman John Lewis (D-GA), former Pennsylvania Gov. Ed Rendell, former FBI Director Louis Freeh, former Sen. Robert Torricelli, Rep. Patrick Kennedy, former CIA Deputy Director of Clandestine Operations John Sano, former National Security Advisor James Jones, former Vermont Gov. Howard Dean, former New York Mayor Rudolph Giuliani, former Joint Chiefs Chairman Gen. Richard Myers, former White House Chief of Staff Andy Card, Gen. Wesley Clark, former Rep. Lee Hamilton, former CIA Director Porter Goss, senior advisor to the Romney campaign Mitchell Reiss, Gen. Anthony Zinni, former Pennsylvania Gov. Tom Ridge, former Sen. Evan Bayh, and many others.
………….. http://thecable.foreignpolicy.com/
Es gibt Berichte, die auf unbestreitbar engere Verbindungen der MEK zu Rudy Giuliani verweisen, der bei einem diesjährigen Treffen des Nationalen Widerstandsrates des Iran (engl. National Council of Resistance of Iran – NCRI), der vom MEK geprägt ist, Anfang des Jahres in Paris vom Regime Change in Teheran sprach.
Man war unangemeldet, versuchte ins Lager zu kommen, wo es dann eine Menge Ärger gab, bis die Polizei das Team festnahme http://shqiptarja.com/lajm/ekskluzive-incidenti-ne-kamp-muxhahedinet-iraniane-rrahin-gazetaren-britanike und http://www.gazetadita.al/muxhahedinet-iraniane-perzene-gazetaret-britanike-nga-kampi-punojne-per-inteligjencen-iraniane/
Iranische MEK hat auch Gründung der Ultrarechten spanischen VOX-Partei finanziert
Nicht nur der Wahlkampf der Ultras 2014 wurde von der iranischen Exilorganisation finanziert, sondern schon die Parteigründung wurde 2013 mit einer Million Euro bedacht
Ralf Streck
heute, 11:00 Uhr
 
Die letzte Zeit hat sich Telepolis mehrfach mit dem Aufstieg der neuen rechtsradikalen spanischen Partei VOX beschäftigen müssen. Die ist nun erstmals in Andalusien in ein Parlament eingezogen, dient der Rechtsregierung als Mehrheitsbeschaffer und konnte deshalb viele ihrer Vorstellungen ins Programm einbringen. Das führte zu erheblichen Protesten, da die rechte Volkspartei (PP) und die Ciudadanos (Cs) damit eine offen rechtsradikale Partei hoffähig gemacht haben (Feministinnen mobilisieren gegen andalussische Rechtsregierung).
Die Cs und PP will der Journalist und Kenner der rechtsextremen Szene Jordi Borràs im Telepolis-Gespräch zwar nicht als ultrarechte Parteien bezeichnen. Aber sie haben mit VOX kein Problem. Beide Parteien führen selbst auch rechtsradikale "Diskurse" und in diesen Parteien haben rechtsradikale Positionen und Kader fortgelebt. VOX-Chef Santiago Abascal war selbst PP-Mitglied und Amtsträger der Partei.
Oft erhellt sich die Sicht auf einen schnellen Aufstieg einer Partei, in dem man den Geldströmen folgt. Und da hat VOX Besonderheiten aufzuweisen. So musste Telepolis kürzlich Titeln: "Was verbindet die Volksmudschahedin mit der rechten spanischen Vox-Partei? Schließlich war bekannt geworden, dass der Wahlkampf der Rechtsextremen zu den Europaparlamentswahlen 2014 mit 800.000 Euro zu 80% von der Volksmudschahedin oder Mudschahedin e-Khalq (MEK) finanziert wurde.
Nun hat die große spanische Tageszeitung El País nachgelegt und berichtet, dass auch die Parteigründung von der MEK mit mehr als einer Million Euro bedacht wurde. Eine erste Spende, eine von vielen Kleinspenden, in Höhe von 1.156,22 Euro sei an dem Tag geflossen, an dem VOX am 17. Dezember 2013 im Parteienregister im Innenministerium registriert wurde. "Die Gelder der Exiliraner haben nicht nur dazu gedient, die Europawahlkampagne 2014 zu finanzieren, sondern auch, um VOX auf den Weg zu bringen", zitiert die Zeitung den ersten VOX-Präsidenten und Parteigründer Alejo Vidal-Quadras. Insgesamt seien 971.890,56 Euro auf das Konto von VOX geflossen. Der heutige Parteichef Abascal habe das gewusst, da Vidal-Quadras ihm die Geldflüsse erklärt hat. "Er fand das gut, er war erfreut."
Da man nun schon im Jahr 2013 angelangt ist, fragt man sich natürlich, wie weit die Beziehungen zur MEK zurückgehen. Das wird nun besonders pikant, schließlich stand die MEK bis 2012 auf der Liste der terroristischen Organisationen der USA.
Nachfragen von El País zur Finanzierung blieben unbeantwortet. Man gibt sich bedeckt, schließlich wurde VOX gerade erst bei der Lüge erwischt, dass sie angeblich das Plazet des Rechnungshofs erhalten habe. Denn 2014 hatte die Partei, anders als behauptet, gar keinen Rechnungsbericht vorgelegt, hat der Rechnungshof mitgeteilt. Man muss vermuten, dass von VOX versucht wurde, die zwielichtige und illegale Finanzierung aus dem Ausland zu verschleiern. Dafür dürfte auch die Stückelung in Kleinspenden dienen, denn dann fallen Überweisungen auch durch die Geldwäsche-Prüfungen. Das Geld, mit dem das Konto der Ultras gefüllt wurde, kam aus verschiedensten Ländern, darunter auch Deutschland, Italien, Schweiz, USA und Kanada.
Es bleibt die Frage, warum eine Gruppe von Exiliranern eine ultrarechte spanische Partei finanziert? Die Neue Zürcher Zeitung (NZZ) hatte gerade berichtet, dass die MEK, die bisweilen auch als marxistisch-islamischen Organisation bezeichnet wird, bezahle auch für die Teilnahme an ihren Kongressen hohe Summen. Die Organisation mit "sektenartigen Charakter", schreibt die NZZ, versuche "so ziemlich jeden zu kaufen". () Sie bezog sich auf den früheren Anti-Terror-Koordinator der USA Daniel Benjamin. Der hatte gegenüber der New York Times erklärt: "Es ist schon etwas, wenn dir jemand am Telefon 15 000 bis 20 000 Dollar für die Teilnahme an einer Podiumsdiskussion anbietet." Der Anwalt von US-Präsident Trump soll sogar 50.000 Dollar für die Teilnahme erhalten haben. Vielleicht äußert sich Rudy Guiliani auch zu MEK-Verstrickungen, nachdem er nun auch Gespräche zwischen Trump und Russland bestätigt hat.
Was die zwielichtige Finanzierung der Volksmudschahedin angeht, ist die Lage noch unklarer. Exil-Iraner, die nicht der MEK nahestehen, erklären gegenüber Telepolis, dass die Organisation, die sich einst dem Irak von Saddam Hussein zugewandt hatte, Geld aus Saudi-Arabien erhält. In diese Richtung weist auch El País. Sie verlinkt auf einen Artikel im britischen Guardian, denn dort spricht sich der saudische Prinz Turki bin Faisal, einst Chef des Auslandsgeheimdienstes, für einen Regimewechsel im Iran aus, da der Iran "Chaos" verbreite. In diesem Sinne wäre es natürlich nachvollziehbar, dass die Saudis diese Organisation aus Exil-Iranern unterstützen, um ihren schiitischen Erzfeind zu bekämpfen. (Ralf Streck)     John Boltons Verbindung mit dem MEK stammt aus der Zeit der Bush-Administration. Sie hat sich durch seine Anwesenheit bei dem jährlichen Treffen in Villepinte (Frankreich) im Jahr 2010 und 2017, für ein Gehalt von $ 40.000, verstärkt. Als Staatssicherheits-Berater vereint er jetzt die Dschihadisten von Daesch und die Anhänger von Maryam Radschavi gegen ein gemeinsames Ziel.
Albanian citizens fearful of radicalised Mojahedin Khalq neighbours deserve more information
European Conservatives line up with Iranian hardliners (Stevenson, Vidal-Quadras)
Farideh Farhi, Lobelog, April 22 2014: … members (some of them with links to the exiled Iranian opposition group, the Mujahadeen-e-Khalq (MEK), such as Spanish EPP member Alejo Vidal-Quadras and British ECR member Struan Stevenson) proposed amendments deleting the call for an opening of the EU office in Tehran, fully in line with the position of their supposed enemies — Iranian hardliners …
Vox (Andalusien) wird durch die Mudschahiddin des Volkes finanziert
Laut einer Untersuchung von El País wurde der Wahlkampf der andalusischen Partei Vox bei den Europawahlen im Jahr 2014 von den Mudschahiddin des Volkes (MEK) in Höhe von 800.000 Euro finanziert. [1].
Die sozialistische Tageszeitung hat den für die Geld-Überweisung benutzten Weg etabliert, aber war nicht imstande, seine Bedeutung zu klären. Die Mudschahiddin des Volkes waren am Ende der Diktatur von Schah Reza Pahlewi eine iranische marxistische Organisation. Sie sind allmählich eine Sekte geworden, die im Auftrag von Israel und den Vereinigten Staaten gegen das anti-imperialistische Regime der islamischen Revolutionäre arbeitete. Der Gründer der Sekte, Massoud Radschavi, floh, nachdem er das Gemetzel der islamischen Regierung am 28. Juni 1981 organisiert hatte, nach Frankreich. Er erhielt den Schutz von Präsident François Mitterrand (der heimlich den Iran bombardierte), bevor er durch Premierminister Jacques Chirac ausgewiesen wurde. Die Sekte zog sich in den Irak zurück (mitten im Krieg, der von Präsident Saddam Hussein gegen den Iran gestartet wurde). Sie wurde ein Handlanger der schmutzigen Arbeit der Hussein-Verwaltung, und akzeptierte Sachen zu tun, die die Präsidentengarde nicht tun wollte.
Als die Vereinigten Staaten Präsident Saddam Hussein stürzten, zögerte die CIA sie zu benutzen. Sie spezialisierte sich auf Attentate gegen Zivilisten im Iran und beteiligt sich an der Mord-Kampagne iranischer Wissenschaftler.
Schließlich akzeptierte Albanien im Jahr 2013, eine Stadt für 3 bis 4000 von ihnen in der Nähe von Tirana zu schaffen. Sie machen heute dort Cyber-Attacken gegen die iranischen Interessen. Laut der lokalen Presse hat die albanische Polizei zu diesem Lager keinen Zugriff, und wo die Mitglieder der Sekte in Sklaverei leben. Die Investitionen der Mudschahiddin des Volkes, um Vox zu unterstützen, sollten wahrscheinlich im Rahmen der Investitionen von Israel in die in Europa als rechtsextreme politische beschriebene Parteien verstanden werden. Es ging darum, ihre Angriffe nicht mehr gegen die Juden…
https://www.voltairenet.org/article204782.html
John McCain
der auch die MEK Terroristen promotete wie Jula Klöckner, ist nun verstorben, der nur Verbrecher Syndikate, Terroristen promotete, hohe Millionen Summen auch mit korrupten Deutschen des Auswärtigen Amte umleitete. Besonders beliebt die "White Helms" Finanzierung, oder Tausende von NGO's bis zum Gender Wahnsinn, damit die Dümmsten einen Job haben. Union Bank kam praktisch Zeitgleich mit dem Bürgerkrieg nach Albanien, wobei Western Union, praktisch wie die Mafia sich Familäre Sicherheiten geben lässt, vom Lizenznehmer. Geldwäsche Banken im Balkan sind Tradition, oft in Hand von Profi Kriminellen. OSCE Bericht, ABI Bank mit Rezzo Schlauch gehört ebenso dazu und seiner Albaner Tuzzi. Die ab 1997 aufgebaute Geldwäsche
US Firma Western Union,
ist ein Parade Beispiel der durch die Amerikaner aufgebauten Geldwäsche System rund um Drogen, Betrug und in 1999 kam dann noch die USAID finanzierte Geldwäsche Bank: American Bank of Albania dazu, welche Betrug, Geldwäsche und Dokumenten Fälschung zum System erklärten, über den AAEF Fund. In Deutschland ist man Partner der Post.  
AAEF Reklame Tafeln an der damaligen National Strasse nach Tirana, wo man Tausende von illegalen Grundstücken verkaufte Abgeordneter der Mafia Stadt: Vlore