Schiesserei rund um Grundstücke und Wahlen
Jetmir Koloshi wurde verhaftet im Hafen Durres. Er wollte nach England mit einem Lieferwagen und 8 Pistolen, Waffen.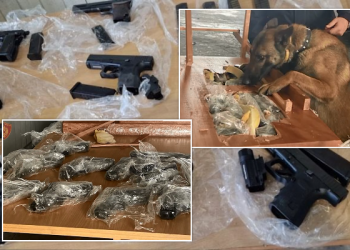 Një muaj pas zbulimit të 8 armëve të zjarrit tip GLOCK në portin e Durrësit, SPAK u ka kërkuar sërisht…Lexo më shumë
Nga
Alket Hatinë, Drogenboss mit vielen Namen ist wieder frei
Gjyqtari i Durrësit Petraq Çuri do të dalë në 10 maj para Vetingut. Në vitin 2018 Ministria e Drejtësisë i kërkoi KLD-së ta shkarkonte nga detyra pasi kishte liruar Alket Hatinë.
8 Maj, 17:26 | Përditësimi i fundit: 17:53
"Work in the cadastre gets going only with money in hand" / Numerous complaints about the work of the Durrës Cadastre
01/09/2020 15:33 https://www.youtube.com/embed/ffXg_L7NPZ8?playsinline=1
Long queues, people waiting in lines without masks and social distancing, is what we found in the offices of the Durrës Cadastre this morning.
Citizens waiting in line say this is not the first time this happens and there are even some who do not remember how many times they went to the counters to get papers done.
Among them there are also sick citizens who can hardly stand in line, or those who have come from afar.
Irritation in the heat reaches its peak as people seek solutions to their property problems, but say that only those who pay bribes finish their business.
Top Channelhttps://top-channel.tv/english/work-in-the-cadastre-gets-going-only-with-money-in-hand-numerous-complaints-about-the-work-of-the-durres-cadastre/